Fatherhood in the Crosshairs
The crazy-but-true story of Hollywood veteran Greg Ellis is the harrowing tale of how a father can be removed from his home... Tweet
It's called work for a reason; it's not always fun. Those who love their work can't deny the grind, the ground hog repetition. It's hard work. What makes work fun is putting your shoulder behind things that are worthy.
"Children without fathers, as mentioned above, are more likely to experience worse outcomes in just about every aspect of life."
"Children who grow up with fathers in the home have stronger cognitive skills, better health, more confidence, and...more empathy."
"No matter what the culture at large wants us to believe, [fathers] are essential to [their] children."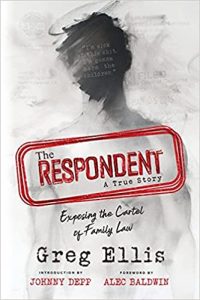 A Note from Guy: The crazy-but-true story of Hollywood veteran Greg Ellis is the harrowing tale of how a father can be removed from his home in handcuffs, put in jail, forced through mental-health facilities, and permanently separated from his kids—all because of one, false allegation. His book, "The Respondent," also reveals the legal system's woke-ism—especially its gender bias against men and its role in the destruction of the fabric of American life. The dedication and introduction were written by Johnny Depp and Alec Baldwin, respectively—both for good reasons. To those who read Greg's story and recognize their own misfortunes, we say, "HimToo."
– Guy

What does it mean today to be a "man"? With woke culture seemingly infiltrating and suffusing every aspect of our lives, it's very tricky business. But fatherhood is even trickier. If masculinity is being targeted, it is the institution of fatherhood that's in the bulls-eye. As society has rightly broached the institution of family inclusivity, the traditional role of a family patriarch has been severely denigrated. The thread of virtue that fathers had woven into the tapestry of Western civilization over generations has been quickly yanked out by radical, fourth-wave feminists, mindless pop culture memes, and a broken family law system. As the appreciation of fathers dwindles, fatherlessness has grown to epidemic proportions that few are willing to admit.
Today, more than a third of children in America live absent their biological father. According to dozens of prominent sources, these children are at a greater risk of facing difficulty in their lives according to just about every conceivable metric. They are, for example, more likely to use drugs, experience abuse, or go to prison. They are twice as likely to drop out of high school and much more likely to live in poverty. They are seven times more likely to become pregnant as teens. Children who grow up with fathers in the home have stronger cognitive skills, better health, more confidence, and—counter to the progressive narrative—more empathy.
Perhaps our ambivalence to the importance of fatherhood is best exemplified by the instruments that society has put in place to prevent men from taking on their rightful role or participating in fatherhood in the first place: paternity laws. Incredibly, it is legal in many states for a mother to conceal from a biological father that he is a father at all. A mother can give birth without ever communicating a thing about it. It goes even further. A mother can knowingly or mistakenly drop another man's name onto the birth certificate. Even if a paternity test later overturns the inaccuracy, the biological father cannot gain his rightful status as the true father. He has no right to even see a photo of his child—ever.
Laws that encourage this sort of matriarchal dominance exist even as an ever-growing mountain of evidence shows that equal time with both parents is, except in extreme cases, the best scenario for kids. While we might want to believe that mothers and fathers are interchangeable, research shows that matriarchal and patriarchal approaches to parenting are different, and dad-deprivation can have serious ramifications on boys' childhoods. For instance, when a little boy wants to climb a tree to swing and play in the branches, his mother might be concerned with the possible dangers and risks, whereas his father may see it as an adventure or a rite of passage of boyhood learning.
Roughhousing is also a vital experience for boys, and fathers more naturally navigate this terrain. Roughhousing engenders a sense of empathy to the self and the other, which helps promote friendship and bonding and can stave off isolation and depression. On average, fathers are stricter with their boys and less prone to manipulation. Boys raised predominantly by fathers become more purpose-driven and goal-oriented, better able to discern their needs from their wants, and are less likely to have challenges focusing.
Needless to say, mothers provide good and necessary parenting from another angle. Biology dictates that a mother is most important for the beginnings of life, because infants are dependent on their mother for survival. But balanced parenting cannot take place if the father is not present. As boys become men, testosterone inevitably starts coursing through their veins. When it is channeled poorly, they can become destructive. A father can help guide this growth and turn destructive to constructive.
Children without fathers, as mentioned above, are more likely to experience worse outcomes in just about every aspect of life. It is also established that a poorly managed divorce, particularly one that includes the loss of a loving parent, is a source of deep childhood trauma. And now there is a growing body of evidence that adults with traumatic love-starved childhoods become more susceptible to nearly every psychological and physical illness. Not only can childhood trauma cause physical illness, it can also cause lifelong problems with trusting others and establishing a stable identity. It can even distort memory and the ability to plan.
"Today, more than a third of children in America live absent their biological father."
Fathers must step into this reality. No matter what the culture at large wants us to believe, we are essential to our children. We must wrest back the crown of fatherhood, polish its tarnished reputation, and wear it nobly. In 2000, Supreme Court Justice and feminist icon Ruth Bader Ginsburg attested, "Women will only have true equality when men share with them the responsibility of bringing up the next generation." Today, fathers who are eager to be a part of their children's lives might know that swaths of policymakers and other elites have completely ignored Ginsburg's entreaty. They might also soon learn that our legal institutions are actively working to rid them of their rightful place in the family.
To be clear, the nuclear family was long overdue for serious reform by the middle of the last century—but the crack in this theory is the same that runs through any dogma that reduces human relations to a battle between two opposing groups. It is exactly this kind of Manichean thinking that has driven us to create legally binding power differentials in family law, and to build a divorce industry with binary thinking at its core.
As a society, we must transition to reconciliation and cooperation, because the post-divorce reality for the vast majority of families simply doesn't resemble the TV shows, books, and films that depict divorce for laughs and light drama. In real life, there are no montages of dad and the kids painting the new apartment, joyous smiles plastered on their faces; there is no celebrity "conscious decoupling" or first-class continent-hopping for the kids. Satisfaction and closure are, for the most part, the domain of Hollywood's candy-floss confection machine.
Greg Ellis is a television director, Annie Award-nominated voice artist, and Emmy Award-nominated actor. He is also president of Children & Parents United.
---
Greg Ellis is a television director, Annie Award-nominated voice artist, and Emmy Award-nominated actor. He is also president of Children & Parents United and host of The Respondent: A Multimedia Conversation on Positive Masculinity:
Follow Greg Ellis